Uporedne karakteristike lanaca snabdijevanja komprimovanim prirodnim gasom i drvnim gorivima
Ključne riječi:
CNG, indicators, wood chips, pellets, comparison
Sažetak
In this paper, general characteristics related to the supply chain of compressed natural gas (eng. CNG - Compressed Natural Gas) are given. Compressed natural gas is stored in a compressed gas state in tanks (bottles), in contrast to liquefied natural gas (eng. LNG - Liquefied Natural Gas) in which natural gas is stored in liquid form. The production and storage of compressed natural gas is somewhat cheaper compared to liquid natural gas, with the fact that the storage volumes are different. From all of this, there is a need to analyze the supply chain with CNG from the aspect of the compression process, transportation and storage costs. This paper describes the process of exploitation of CNG as a fuel for the conditions of functioning of the supply chain in Bosnia and Herzegovina. Real data related to the process of compression, transportation and storage of natural gas were taken from the company: "Prvo gasno društvo, D.O.O. Zvornik". The paper analyzed the indicators of chain like as: energy efficiency, CO2 emissions and production cost reduced per 1 kwh of energy expressed in the lower heat value (LHV) of the distributed fuel. Also, a short comparison the supply chains by CNG, wood pellets and chips as fuels are presented by MCDM method. From the aspect of transport logistics, CNG has significantly better predispositions compared to other supply chains of pellets and wood chips, taking into account the energy efficiency of its process as well as the cost of supply logistics itself. However, CNG belongs to the category of fossil fuels.
References
Ivošev, M. (2017), Projekat mašinskih instalacija zamene mazuta sa komprimovanim prirodnim gasom u kotlarnici CENTAR, Toplane u Kladovu, Idejno rešenje, Glavna sveska.
Semin, R. Abu B. (2008), A Technical Review of Compressed Natural Gas as an Alternative Fuel for Internal Combustion Engines, American J. of Engineering and Applied Sciences 1 (4): 302-311.
https://www.prvogasnodrustvo.com/ pristuplјeno 12.6.2022.
Ivošev, M. (2018), Komprimovani prirodni gas (CNG) – proizvodnja, transport i primena, KGH, BIBLID 0350–1426 (206).
Ramoo, R., & Parthasarathy, M. (2011). A New Concept for CNG Carriers and Floating CNG/Oil Processing and Storage Offshore Platforms.
Todorović et al., (2017), Boce za komprimovani prirodni gas, 15 Procesing, 176-186.
Barboza Neto E.S., (2011), Experimental and numerical analysis of a LLDPE/HDPE liner for a composite pressure vessel, Polymer Testing, No. 30, pg. 693-700, 2011.
Strelec, V., i saradnici (2014), Plinarski priručnik, 6. izdanje, Zagreb : Energetika marketing, ISBN 953-6759-11-X
Lin, H., Clavreul, J., Jeandaux, C., Crawley, J., Butnar, I. (2021) Environmental life cycle assessment of heating systems in the UK: Comparative assessment of hybrid heat pumps vs. condensing gas boilers, Energy and Buildings, Volume 240, 2021, 110865, ISSN 0378-7788, https://doi.org/10.1016/j.enbuild.2021.110865.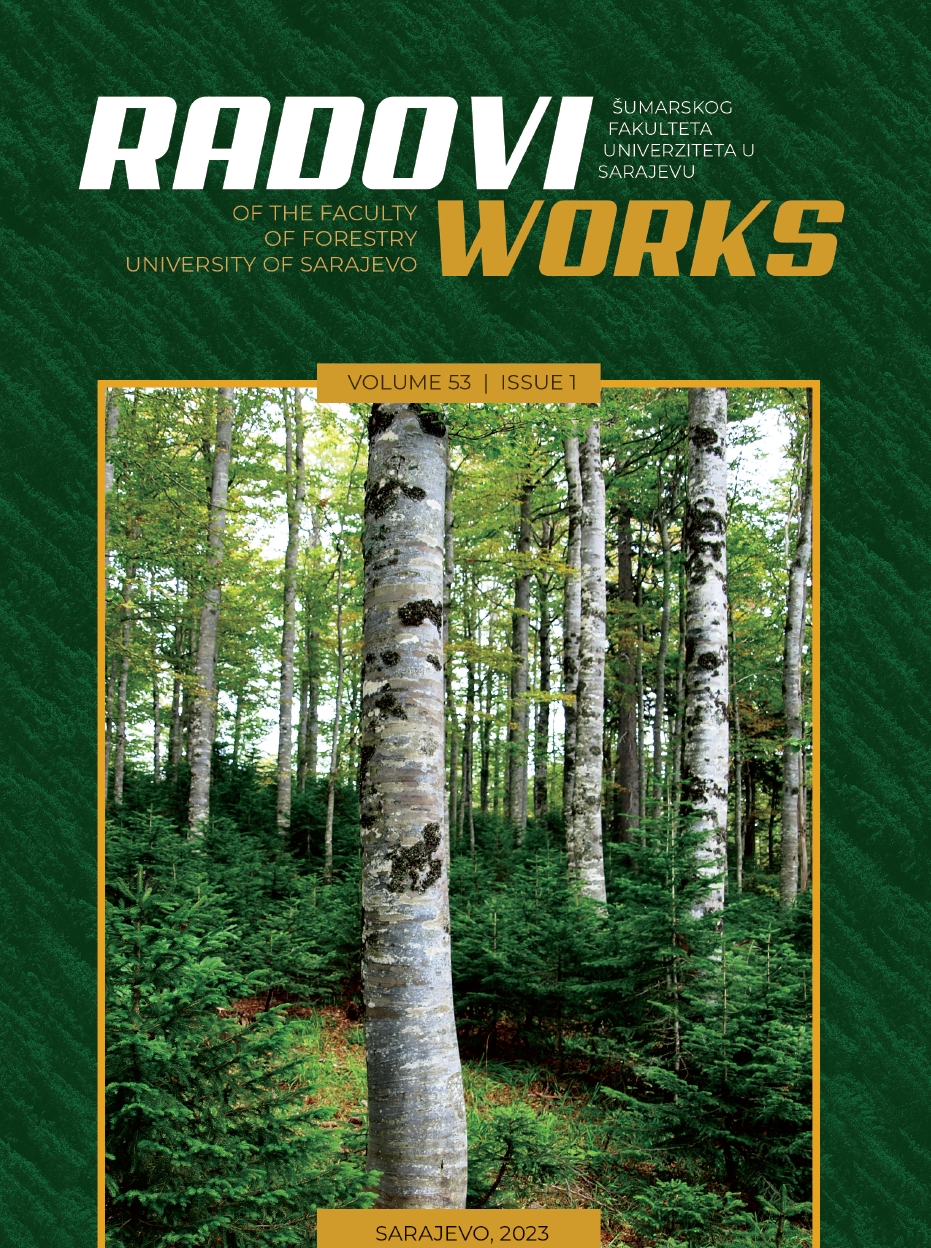 Downloads
How to Cite
Vasković, S., Kozić, D., Ašonja, G., Gvero, P., & Munjić, A. (2023). Uporedne karakteristike lanaca snabdijevanja komprimovanim prirodnim gasom i drvnim gorivima. Radovi Šumarskog Fakulteta Univerziteta U Sarajevu, 53(1). https://doi.org/10.54652/rsf.2023.v53.i1.555
Rubrika
Originalni naučni rad
License
This work is licensed under a Creative Commons Attribution 4.0 International License.